If you are reading this in an RSS reader, you may want to click through for this one. As you can see, College V2 has received a major update. I wish I could claim responsibility for this one, but it's the handy work of College V2 reader Joseph Casabona and his web design firm JLC Design. You can find his personal site here and his company site here.
All I did was pass Joe a Photoshop mockup and he took care of the rest. I highly recommend Joe and JLC not only because of the finished product, but because of the service and friendliness I received along the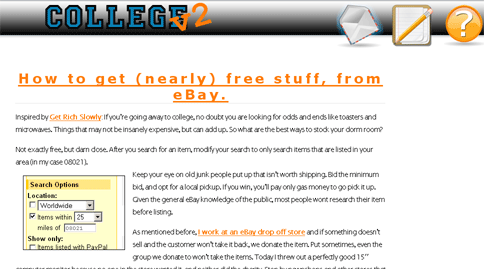 way. Joe responded to my emails within an hour or so and always met his deadlines.
I opted for a cleaner look to focus more on the actual posts and not stupid little sidebar widgets.
I also had to enter in the link section fresh. So if you read this site often, and have a homepage, let me know and I will be happy to link it.
There are the inevitable kinks, if you notice any, drop me a line at scblanda@gmail.com.
Any design quarks or flaws from here on out are my fault alone. If you need any design work I can't recommend Joe and JLC Design enough.
With the new design, I hope to institute a new style for College v2.  I still plan on posting tech tips that benifit college students, but I plan to expand that slightly by paying mind to the news.  As evident by the DoD document, I think that policies that affect us are going unoticed and underreported by most journalists.  Becasue after all "young people dont vote and we dont buy newspapers", so why bother?  I don't plan on taking any political leaning, just to shed light on what is going on.  I also am planing a weekly "Best College Comic" poll.  If you have a favorite comic I should track shoot me a e-mail.  And maybe a podcast?
If you are one of those faithful souls who have been keeping up with this blog, please drop me a comment or e-mail and let me know about these changes.  Because this is your site as much as it is mine.
Thanks for reading College V2 everybody.
[tags]CSS, HTML, blog design, web design, awesome people[/tags]