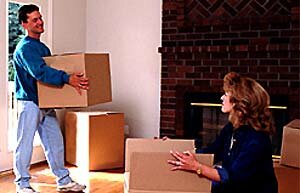 As mentioned earlier, I recently moved out on my own. No more parents, no more RA's, just me and my roommate. Now I have been on my own for about a two months and have noticed a change in mindset, and a change in my daily routine. Nothing beats being independent both financially (mostly) and emotionally (mostly).
However, these are 5 five things I wish I though of, considered, and got into place before I moved out.
There is no "other" person
You hear it all of the time from your parents: "Who is going to pick up for you when you're older?" Sadly, they are right. As you live your life when you are young, in the back of your mind you knew certain things your parents would take care of. When you move, its all you baby. Want food? You have to cook it, You have to clean it.
But it really goes beyond just cleaning. If ANYTHING gets done, you are the one doing it. No one is going to pick up the mail, send the gas bill, or keep your affairs in order. Its a strange mindset, especially from someone like me who had 8 people living in the house. Now it is just me and my roommate.
You need to learn how the world works
Sounds vague, I know. But you may not realize all of the little things you need to have under control before you venture out. Know how to handle money? Know how to set up utilities? Do you know your legal rights as a renter/ home owner? For example when I moved in, my apartment wasn't getting mail. I had no idea who to tell that this apartment wasn't vacant anymore.
Another example is when I moved in, my phone jack was in tatters on the floor. I wanted Internet so this was important. I harassed the landlord for days until he told me it wasn't his problem and that it was all the phone company. I decided to fix it myself, but I still received no signal. After three weeks of harassing the phone company they finally sent someone out and fixed up my connection. To get my DSL online it took the company nearly a month. Good thing I stole a wireless connection from a law firm up the street.
Its all your fault
Because you are the only one responsible for you, if anything goes wrong in your life it's your fault. Maybe not literally, but you have to fix it. Like the above phone situation, at first I was tempted to curse the landlord and blame him. But, thing is, it was MY fault for not acting on it sooner and my fault for not yelling at the right people. This applies to anything. Oversleep? Your fault. Don't have enough money for rent? Your fault. Car brakes down? You better fix it.
Security Deposits = death
Before moving out I banked a lot of money. Maybe not a lot by most people's standards, but a lot for $10-an-hour college kid standards. I thought I would be set for a few months as I moved in and started school, but I drastically underestimated how much moving out costs. This depends on where you rent, but my security deposit was 1.5 months rent, and the next months rent was due in 30 days. On top of that, you have to by all of your initial food and random basic house stuff like cleaning supplies. When all is said and done I wondered what happened to it all. And, to be honest, I got a lot of outside help such as dishes that people no longer used.
You're no kid
You are no longer your father's son, or so-and-so's brother. You are now a (more or less) self-sufficient adult. So don't take any shit from anyone. Period.
I'm sure this doesn't apply to everyone. Some of you may scoff at me and think I'm a moron, while others (hopefully) will see where I am coming from.
Have you moved out? What did you wish you knew before you did?