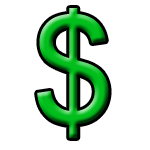 This year when I set out on my first year of commuting without public transportation I had roughly $200 set aside for commuting expenses. That $200 dwindled down very quickly until I found myself wondering where all of the money went.
After reviewing where I spent my money, I found that I was not budgeting my money correctly and could save a few bucks by taking a few simple steps.
First thing to realize: when you drive anywhere there a few inherent reason you will spend money. Below is each, and something I did to help shave my costs down.
Gas
Obviously gas prices depend on where you live. I commute across state lines and can see the huge difference between the two. In Pennsylvania, gas is around $2.45, however in New Jersey, gas was just under $2. Guess where I filled up?
There are also a few things you can do to increase your gas mileage. Such as clean all of the crap out of your car, make sure you have optimal tire pressure, and avoid stop and start driving.
Food
Usually if you don't live on campus, a meal plan isn't really economical. For example, my school cafeteria charges $4.85 for a wrap while a nearby food truck charges $4. A small amount, but it adds up.
Additionally, when you can't just run to your dorm for a bite to eat, you find yourself buying food from local vendors. Not only is this not cost effective, it's usually unhealthy.
To save hundreds of dollars a year simply prepare your own food before you go.
Parking
Going to a school in the city, good parking is hard to find, so a lot of students pony up $10 to park in a secured lot. Be sure to see if your school has a permit you can buy, and make sure it works out economically.
Fun
I hope you made friends when you lived on campus, because after social events you will need a place to say, or at least a place to wise up a little bit.
Also pay mind when you go out with friends who still live on campus. Remember: most people living on campus are paying their living expenses through loans. Chances are, you aren't. Sometimes you may not be able to keep pace.
Your car = your baby
Your car is your lifeline to education and fun. Treat it well, change the oil, and don't let any sounds or warning lights go unattended. Paying a little bit now is better than the alternative…