Following the recent trend of online applications for college students is Gradefix. Gradefix doesn't aim to be an all-in-one application for students but rather aims to do one thing and do it well: be an online assignment book and task manager.
The review
The sign up process is fairly simple and expected. That is until you are asked to fill out your class schedule. While the class schedule seems expected who knows how much time they are going to study each week before they receive assignments?

After that, you are taken to your dashboard where the main action occurs on the left module. Here you can add assignments with several options: The class, type of assignment, the due date, and the estimated time of completion.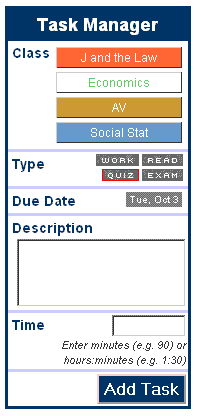 After you add the class, it is then placed on the right hand side and are color coded by class.
Once your assignments are moved to the right you have the option of updating its progress, which really doesn't let you click off "I have 20% done" it simply irreversibly deletes your task.
Bottom line: The site seems to only have the bare bones of a decent usable web app.
There are some promising features such as the color coding of classes and the simplicity of the layout but beyond that there is not much you can't accomplish with something like Outlook or even the task manager that comes with most operating systems. Probably the best feature is that Gradefix totals up your study time every day, something that takes a calculator and one index finger.
Another gripe is that when you add a task and pick the due date, Gradefix automatically assumes you are going to do the work for the class the day before it is due. I would think a time management tool would allow you to block off certain parts of your day for projects as you see fit.
On top of all of that, when signing up you are asked if you would like to pay $5 for the premium service which allows you to track more tasks at a time. But I don't understand why anyone would like to pay for a service that a simple free calendar application can do for them.
I understand we all have to pay the bills, but I really hope this isn't a money grubbing scheme and that the makers plan on adding more features. I would pay for an application that added value. The site has a great basic framework laid down, and can add some features such allotting study time, reminders, and progress meters.
Until then, I can't recommend Gradefix.
[tags]Gradefix[/tags]