People our age like to express our individuality – from the bands we like, to the posters on our walls, to our cell phone covers – and up until now there was very little choice in regards to customizing our favorite tech gadgets. We were pretty much left to DIY jobs like stickers, paint, and so on. But then came the ability to change the covers on our cell phones. Instead of everyone having the same, boring old black, blue or grey phones, we suddenly had a choice. Shortly thereafter came the revolutionary Apple iPod, which was also available in the mundane white and black colors. Soon, they realized that people liked choice and expanded their color range, and offered lots of cool covers in a rainbow of colors. All the while, computers and other things have remained the same old boring colors. Booo.But now, companies are beginning to realize the buying power that our generation has, and are paying a bit more attention to the things that we like and want. And now, they're coming out with all kinds of gadgets that give you all kinds of choices in appearance.
Computers:
Sony has introduced a new line of computers aimed directly at our generation – the Sony VAIO C-Series. These PC's come in a range of colors and designs. The VAIO Type C line of computers come in your choice of six different colors: baby blue, green, and pink, as well as the more conservative colors of black, silver, and dark grey. For a limited time, they are also offering limited edition "Graphic Splash" versions of the notebook.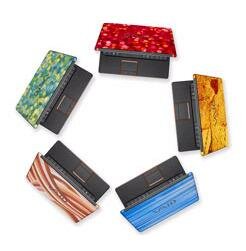 The Graphic Splash limited edition designs are available in Green Storm, Blue Streaks, Angel and Pink Swirl. The Sony VAIO C-Series laptops are powered by your choice of Intel processors: the Intel Celeron M430 CPU for the budget conscious, or the Intel Core 2 Duo (T5500, T7200, or T7400) for those who want to pack more power. It comes with an NVIDIA GeForce Go 7400 graphics card, and RAM ranges from 512MB to 2GB, again depending on what you want or are willing to spend. Hard drive storage can be as large as 120GB. Prices start at just $919, depending on your configuration. If you're looking for a cute, colorful laptop that will stand out in the sea of black and grey laptops, then the Sony VAIO C-Series laptop might be for you.

Digital Cameras:
Digital cameras are now starting to become available in colors other than the standard black and silver. Hooray! Take for instance the Kodak EasyShare V803 and V1003 digital cameras. These cameras come with all the neccessary features and the ability to express your individuality. They are both stylish and powerful, as well as small enough to fit in your pocket. These new model cameras come in your choice of eight signature colors, with tons of accessories and fashion cases. Kodak also offers hundreds of different "skin" designs that you can easily apply to your camera.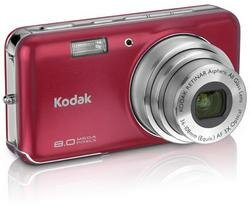 The entry level model – the V803 – features point-and-shoot 8 megapixel photos, a 2.5-inch LCD screen, 3x optical oom, 32MB internal memory, ISO sensitivity up to 1600, 30-fps VGA video recording, and 22 scene modes. The V1003 model features upgrades specs. These cameras will be available next month, with the V803 prices at $199.
Keyboards: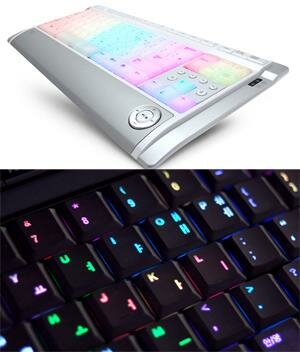 You can even customize your keyboard these days. Instead of the old monochrome colors of days gone by, companies like Luxeed Lighting and Technology are offering us full-color keyboards. The Luxeed keyboard is sleek and colorful, but it is also highly customizable. The keys on the keyboard can be preset to any of the 512 colors available, giving you an unlimited number of possible configurations and a truely unique set-up. For those too lazy to program their own keys, Luxeed also offers downloadable skins and patterns on their website. If you've created a custom layout, you can save it for future use as well. One of the neatest features of this keyboard is that it can be synched with your music to light up and dim based on the beat of the music. It's like a disco at your fingertips!
Continuing the Trend:
The gadgets I've shown you today are a just a small sampling of customizable tech toys that are now entering the market to meet the demands of consumers our age. This is a trend that has only just begun, and you can expect it to continue with more and more gadgets being available in not only a variety of configurations, but also a variety of colors with lots of unique accessories.