Today at the MacWorld Expo in San Francisco, Apple CEO Steve Jobs unveiled the highly-anticipated Apple iPhone, which promises to revolutionize the mobile phone industry. College students no doubt will be clamoring to get their hands on one of these, especially since it was already shown to be more popular than beer within their peer group.
The Apple iPhone is not just a phone – it is a phone, music player, video player, internet device, and camera all in one. Like its iPod Nano and iPod video cousins, the iPhone is slim and sleek at just 11.6mm thick, 2.4-inches wide, and 4.5-inches tall. Here are some of the features of the phone:
iPod Features: The iPhone is a widescreen iPod that features touch screen controls that allow you to enjoy all your content, including audiobooks, music, TV shows, and movies. It features an amazing 3.5-inch widescreen display, and allows you to sync content from your iTunes library on your PC or Mac, making that content also accessible with just the touch of a finger. iPhone users will be able to scroll through songs, artists, albums, and playlists with just a flick of a finger. One cool new feature of this function is the display of album artwork – you can now use Cover Flow to browse your music library by album artwork for the first time on an iPod.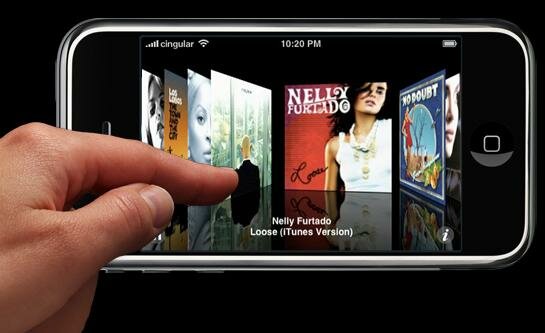 Phone Features: Using the phone function of the Apple iPhone, you can calls by simply pointing your finger at a name or number in your address book, a favorites list, or a call log. All your contacts from a PC, Mac, or Internet device are also automatically synched, you can select and listen to voicemail messages in whatever order you want — just like email. Calls can easily be merged together with just the touch of a button to create a conference call. Conference calling has never been easier!
SMS Text Messaging: Using the iPhone, you can send text messages withan SMS application with a predictive QWERTY soft keyboard that prevents and corrects mistakes. This makes it easier and more efficient to use than the small plastic keyboards found on many smartphones.
Camera Function: The iPhone also features an amazing 2-megapixel camera, as well as a photo management application unlike anything available on a phone today. Users can sync photos from a PC or Mac, browse or email them with just a touch of the screen.
Internet Device: The iPhone features a rich HTML email client as well as the Safari browser, which automatically syncs bookmarks from a PC or Mac. The Safari browser has built-in Google and Yahoo! search. You can also multi-task by reading a web page while simultaneously downloading your email in the background via WiFi or EDGE. Safari also includes built-in Google and Yahoo! search. You can even display Google Maps as they were meant to be seen, and zoom in to view specific points.
E-mail: The iPhone is great for multi-tasking, so you can read a web page while downloading your email in the background over Wi-Fi or EDGE. Its e-mail client fetches your email in the background from most POP3 or IMAP mail services, and then displays photos and graphics along with the text. Widgets: Extend your iPhone with widgets, small applications that give you helpful information like stock reports, weather reports, and more in real time.
Touchscreen: The iPhone features an amazing 3.5-inch widescreen display, and has one of the most revolutionary user interfaces since the mouse. The interface is unlike anything you've ever experienced on a phone, with a large multi-touch display and innovate new software that allows you to control everything with the touch of a finger.
Intelligent Keyboard: The iPhone features a full QWERTY keyboard that allows you to send and receive SMS messages, email, etc. It is predicitive, and therefore prevents and corrects mistakes.
Built-in Sensors: The iPhone incorporates an accelerometer, which detects when a user switches from holding the phone in landscape to portrait mode, and automatically updates the image on screen to fit the mode. The sensors also detect when you put the iPhone near your phone, and automatically shuts off the display screen until you move it away to save on battery power. An ambient light sensor automatically adjusts the screen's brightness to the appropriate level for the current ambient light, which enhances user experience and also saves on battery power. Accessories: As of now, Apple has announced a Bluetooth headset that will work with the iPhone, as well as new headphones that incorporate a small white box in the middle of the cord. This box has a built-in microphone and a switch to answer and hang up phone calls.
To sum all that up, the iPod is one super-cool device that will revolutionize the way you entertain yourself. It's a phone, mp3 player, video player, and internet device all rolled into one cool device. It is expected to launch in June 2007 in the United States, Q4 in Europe, and 2008 in Asia. In the U.S., it will be available exclusively through Cingular Wireless in two models: a 4GB model and an 8GB model. The 4GB model will go for $499 with a two-year contract, and the 8GB model will go for $599 with a two year contract. Apple also announced a bluetooth headset that will work with the phone, and unveiled new iPod headphones that will work with the phone to play music and handle phone calls. I want one. :)